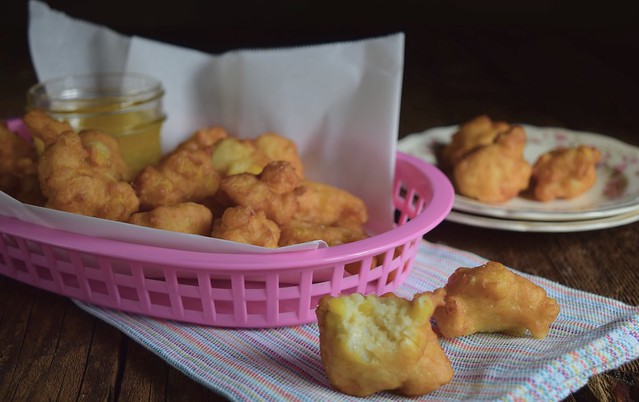 Sweet Corn Fritters with Honey Butter are for everyone. Evv-err-reee-ya-one. Everyone: your kids, duh, these are like puffy little
pseudo-donuts
. People at
campfires
. Husbands, or other manly men, like my brother — who just got engaged — yahoo! And just about anyone else on the entire globe who enjoys placing their lips around a pocket of juicy sweet corn (so, so sweet right now!), fried in
luscious lard
until slightly crisp, but decadently moist and tender on the inside.
Oh, and the (to-die-for) honey butter. May I tell you about my honey butter?
Amelia
, my farmer friend graciously gave me a hunk of
straight up honeycomb
, which after you melt down, appears and acts the same as regular honey, but
this
honey has (actually,
had
- I devoured it all) the most delicate floral flavor with only a gentle sweetness. I adore knowing a real farmer. I'm a wannabe farmer, but soon, oh, so soon I'll be
a sustainable chef and food activist
who may know a little bit more about farming than I do today. 9,845,230 seconds until I leave. Not that I'm counting or anything. Now, go make some fritters, come back, and tell me how many you couldn't stop eating. Xo, Becki
Printable Recipe Here
Sweet Corn Fritters with Honey Butter
recipe inspired by all recipes.com
Yield: About 2 dozen fritters
3 cups lard or
tallow
4 cobs cooked sweet corn, shucked (about 2 cups)
1/2 cup milk + more for thinning, if needed
1 egg
1 tablespoon coconut oil, or something similar
1 cup all-purpose flour
2 tablespoons cane sugar
1 teaspoon baking powder
1/2 teaspoon fine sea salt + more for sprinkling
2 tablespoons honey
4 tablespoons unsalted butter
Preheat lard in a electric fryer set in the range of 350ºF - 375ºF. Alternately, use a heavy kettle with high sides over medium-high heat on the stovetop. Have the cover nearby for any unlikely "situations."
Meanwhile, using a fork, break-up corn kernels in a large mixing bowl. Pour milk, egg, and coconut oil over the kernels, give that quick stir. Add in flour, sugar, baking powder and salt, stir to combine. If the mixture looks a little thick, add a teaspoon or two more of milk and mix well.
Drop batter by teaspoonfuls into hot lard. Fry for 1-2 minutes, flipping once or twice to encourage even browning. Remove with a slotted spoon to a paper towel-lined plate. Sprinkle with a titch of fine sea salt. Repeat with remaining batter.
Mix together honey and butter. Serve fritters with honey butter. To reheat, preheat oven to 350ºF. Place fritters on a baking sheet and reheat for 7-9 minutes, until sizzling and crispy again.